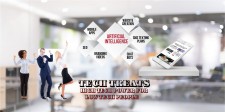 Businesses with any budget can now get cutting-edge technology at cut-rate prices, starting as low as $14/month.
Clarksville, MD, June 13, 2018 (Newswire.com) - Tech Treats, LLC is pleased to announce its Business Bonanza.  Small and minority-owned business owners often find themselves struggling to compete in the local, as well as global marketplace because they lack the vital business technology their competitors use to succeed.  Tech Treats, LLC was launched to cater specifically to the needs of small business owners who have a limited budget.
At Tech Treats, business owners can obtain cutting edge technology at cut-rate prices, sometimes less than 50% of what competitors charge for the exact same service. For instance, explainer videos, which can feature real photos or cartoon-like characters, can grasps potential customers' attention quickly and show them what products and services a business offers. Many companies charge several hundred to over a thousand dollars for an explainer video, Tech Treats, LLC charges only $99, obviously within the budget of virtually every business owner.
Video marketing is the wave of the future, with some experts predicting that videos will soon be the major source of advertising, far exceeding e-mail marketing campaigns, television ads and other traditional marketing strategies.  After all, who doesn't prefer a fun and engaging animated video over a long page of text?
In addition to an explainer video, the Business Bonanza package also includes 1 year of access to a template-based, do-it-yourself mobile app creation platform.  Consumers often expect a business to have its own mobile app thru which they can place orders, see new inventory and communicate with merchants, to name but a few functionalities. While many companies charge tens of thousands of dollars to create a business app, Tech Treats, LLC has partnered with a world-leader in mobile app creation to bring it customers a surprisingly simplistic, drop and drag app creation platform at special pricing.
"I spent over $9,000 on a mobile app for my first business over 5 years ago," says "Myrt" Hester, Tech Treats, LLC CEO. "And that price did not even include the cost of periodic updates, so I was delighted to find out there was a way for those with no technical skills whatsoever to create their own professional, stunning mobile apps in hours by simply switching the photos and text in pre-created app templates.  Even a computer-savvy 6th grader would enjoy creating an app on this amazingly simple platform, thus its name, EasyApps.Fun," she went on to say.
Professional website creation, a Facebook Messenger chatbot, along with a year of chatbot platform access, a national press release and a social media marketing campaign that guarantees no less than 5,000 views of the video Tech Treats creates round off the package.
Merchants who do not need all the aforementioned services can purchase them separately, or even exchange a service or two. For instance, a merchant who does not want a chatbot can have the sign-up fee for an SMS text marketing campaign waived.
"Tech Treats, LLC is committed to leveling the playing field for small businesses which struggle to compete with their competitors which have larger marketing budgets," says "Myrt" Hester, "and our prices and customer service set OUR small business apart from ITS competitors.
Contact info: 
"Myrt" Hester
CEO, Tech Treats, LLC
888-277-7123
contact@techtreats.solutions
www.TechTreats.Shop
Source: Tech Treats, LLC
Share: