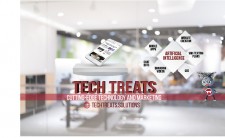 Now, low-tech business owners can demand the same high-quality technology utilized by their major competitors.
COLUMBIA, Md., October 10, 2018 (Newswire.com) - Tech Treats, LLC, a unique business technology and marketing company in Clarksville, MD., is pleased to announce its hands-on technology series geared toward individuals with little or no technological background. Each workshop will empower participants to create their own cutting-edge technology and implement that technology prior to session end. Topics will include mobile app, chatbot and website creation.
The series begins with App Your Business in a Single Morning, which will be held on Wednesday, Nov 21 from 9 a.m. - 1 p.m. in Columbia, MD. During this 4-hour workshop, participants will build a professional mobile app for their business on a globally renown platform which has been used to create millions of mobile apps worldwide. At the completion of the workshop, participants, with the assistance of the instructor, will upload their app file to the platform of their choice, such as GooglePlay or the AppStore for review.
The instructor will take a step by step approach to explain how to create a striking app, with no prior knowledge of coding. The instruction will be at a high school level, while the finished product will be of corporate quality.
After the workshop, participants can update their mobile app on any computer or smartphone as often as they like and will feel confident in their ability to do so. They will also have the instructor's contact information should they have questions in the future.
While the series will kick off with an in-person workshop, Tech Treats, LLC looks forward to conducting ongoing remote webinars which can be accessed on any computer or smartphone starting early next year.  
Skills needed:
Basic keyboard skills. The only skill required is basic keyboarding, such as would be needed to create a basic Microsoft Word document. 
Potential apps include, but are not limited to, the following categories:
·        Business
·        Photography
·        Restaurant
·        Musicians
·        Online business
·        Health
·        Worship
·        Education
·        Charity
·        Construction
·        Finance
·        Real estate
·        Sports
·        Travel
·        Wedding
·        Entertainment
·        Sports
·        Catering
·        Law firm
·        Insurance
·        Information
·        Or start from scratch and create one's own category!
Create a simple or complex app utilizing one or many of the app's features included below (not a complete list):
·        Audio, Videos, and Pictures
·        Store
·        Foodcourt
·        Members card
·        Loyalty card
·        Directory
·        E-Commerce
·        Coupon
·        Hyperlocal
·        Form builder
·        Review
·        Testimonials
·        Map
·        Scheduling
·        Social networking
·        Donations
·        Polls
·        Dating
·        Website
·        Room reservations
·        Login
·        CRM
·        Social media pages, such as Facebook, LinkedIn, Twitter, Google+
·        Artificial Intelligence (AI) chatbots
To get more information or to register, go to TechTreats.Solutions
Contact info:
Myrt Hester
888-277-7123
contact@techtreats.solutions
Source: Tech Treats, LLC
Share: